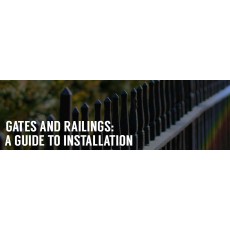 The external appearance of your home is just as important as the inside, and attractive gates or railings can present an elegant effect while increasing your family's security. However, while many people have considered such an adornment, the rules around installation can sometimes appear off-putting.
The reality is that gates or railings not only protect your property, belongings and loved ones, they can also improve your privacy and create a favourable first impression if trying to sell the house. To help you better understand the rules and regulations, we've created this comprehensive guide.
What to consider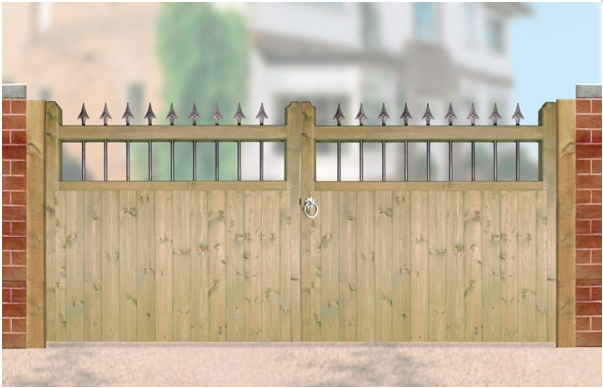 Before going any further, it's important to have a few points clear in your mind, as there is a huge variety of gates and railings on the market, each of which are designed to meet different needs. The following are all important considerations that could affect your options:
The type of gate or railings – metal or wood?

Their purpose

Where they will be located

How the gates / railings will be supported and fixed

Operation - manual or automated?

Finish / colour

Size

For inspiration, browse our range of gates and railings.

Getting your measurements right is crucial for smooth installation.
1. Effective measuring for wooden gates

Height: This is up to you, though we recommend leaving a clearance gap of 25mm underneath (and at least 50mm if your ground slopes) to enable the gate to swing open unobstructed. Do bear in mind the height restrictions mentioned later on in this guide.
Width: To calculate the width of the gate you wish to order, first measure the opening between your walls or gate posts. If you do not already have posts in place, deduct the amount of space these will require, which will leave you with a gap of 10mm between the gate and the wall / gatepost on both sides. If you are purchasing posts too, then subtract the width of the posts from the width of the void.
For double gates, leave an additional 10mm gap between the two gates – so three 10mm gaps in total.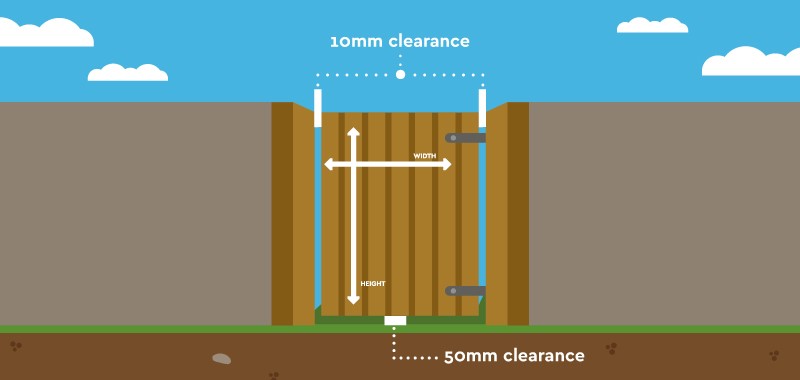 2. Practical tips for measuring for metal gates

Height: As with wooden gates, the height you choose is up to you but this measurement is the height of the gate itself and would not include any ground clearance. On a metal gate, this is recommended to be at least 50mm or more if your ground slopes.
Width: The measurement required here is the distance between your walls or posts. If you do not have posts already in place, deduct space for the posts and the remaining space between them is the size of gate you need to order.
There's no need to worry about hinges and latches, our advertised dimensions all accommodate these. Simply provide us with the width of the opening.
3. Measuring advice for garden and home railings

Railings are typically affixed to the wall / pillars / posts using L-shaped fixing hinges, so the measuring process is fairly straightforward: simply measure the width between. Take width measurements from the base and the top, in case the brickwork isn't quite straight. We'll take into account the space needed for the hinges.
Regarding height, while railings can be made to most height specifications, we would suggest that they don't stand above the walls or pillars. You should also factor in a 50mm gap between the wall and the underside of the railing, and be aware of any overhanging structures or capstones that may prove obstructive.
Made to measure railings over two metres in length will need to be supplied as two separate sections with a separate in-line post in between. If you need help working out your requirements please call us on 01543 889900. Off-the-shelf panels are 1.8m long but can be joined using a bolt down railing post.
If you have any questions about measuring for gates and railings, please do get in touch. Also, if the space is irregular, Garden Oasis provides a made to measure service. Contact us on 01543 889900 or submit an enquiry to find out more.

Installing gates and railings is no small task; naturally there are lots of factors that can impact your decision. Here, we answer some of the questions we're most frequently asked.


Q) Is planning permission required?


The Gov.uk planning portal says that planning permission is required in situations where:
the gate or railing is over one metre tall and will be situated next to a highway or footpath

the gate or railing is more than two metres in height

any other neighbouring fence, gate, wall or boundary will be affected

your

property is listed

or situated on the land of a listed property (curtilage)

an article 4 direction or other planning condition has removed your right to erect or alter gates/ railings

You may need permission to make changes in a conservation area if you wish to take down existing fences, etc., prior to installing new gates and railings. This requires checking, as conservation area consent may not be needed in every circumstance.
Planning rules do differ, depending on where you live. As such, it's advisable that you seek information from your own Local Planning Authority, as they will be able to furnish you with information which is relevant to your area.


Q) What is the maximum height for a gate or railing that I can install?


As mentioned above, without planning permission, you can install gates and railings which stand up to two metres high. Unless, that is, they are positioned by a highway which will be used by vehicles or is a footpath to a highway – in which case, the limit is one metre.
If you wish to remove, maintain, alter or improve an existing gate, railing or fence, planning permission is not required where the replacement is no higher than the original.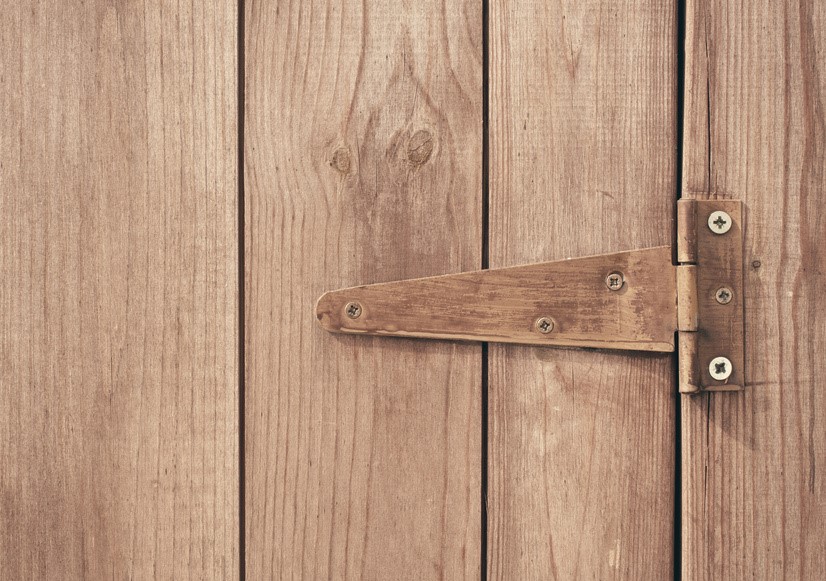 Q) Wood or metal – what's better?


When thinking about what material to opt for, it's key to go back to those initial considerations: purpose, location, fixings and, of course, your budget.
Metal is obviously stronger than wood, it can be more easily fashioned into ornate patterns and tends to suit older or listed properties. It can corrode if not finished and primed using the right products, however.
Wood, on the other hand, is the more natural choice and can be just as durable as metal if treated correctly. Wood tends to blend more easily with gardens and existing fencing, plus the knots ensure that each wooden gate is unique. Bear in mind that wooden gates can warp over time, but again, proper treatment should prevent or at least delay this. A further selling point is that wooden gates provide greater privacy – as a solid panel of wood, prying eyes won't be able to see in.
The choice, ultimately, is yours: which material would be more aesthetically pleasing and what would best suit your intended purpose?


Q) Is my structure strong enough?


In most cases, wooden gates will be hung from/attached to gate posts. Metal gates and railings can be affixed directly to brickwork, so long as it's in good condition and of sufficient thickness that it can bear the weight.
Signs that you'll need to make some repairs include:
crumbling bricks

the mortar isn't intact

the ground around the structure has succumbed to subsidence

if brickwork has ever been damaged by a vehicle

tree roots pushing through

You may need to use metal posts to shore up the brickwork or concrete a new gatepost into the ground (see below). It's advisable to ask a qualified builder before undertaking any of these tasks yourself.

However, if the foundations are deep, and the brickwork is secure, immoveable and in an immaculate condition, the structure could be fine. Again, it's worth speaking to a professional for their opinion or alternatively, call us on 01543 889900.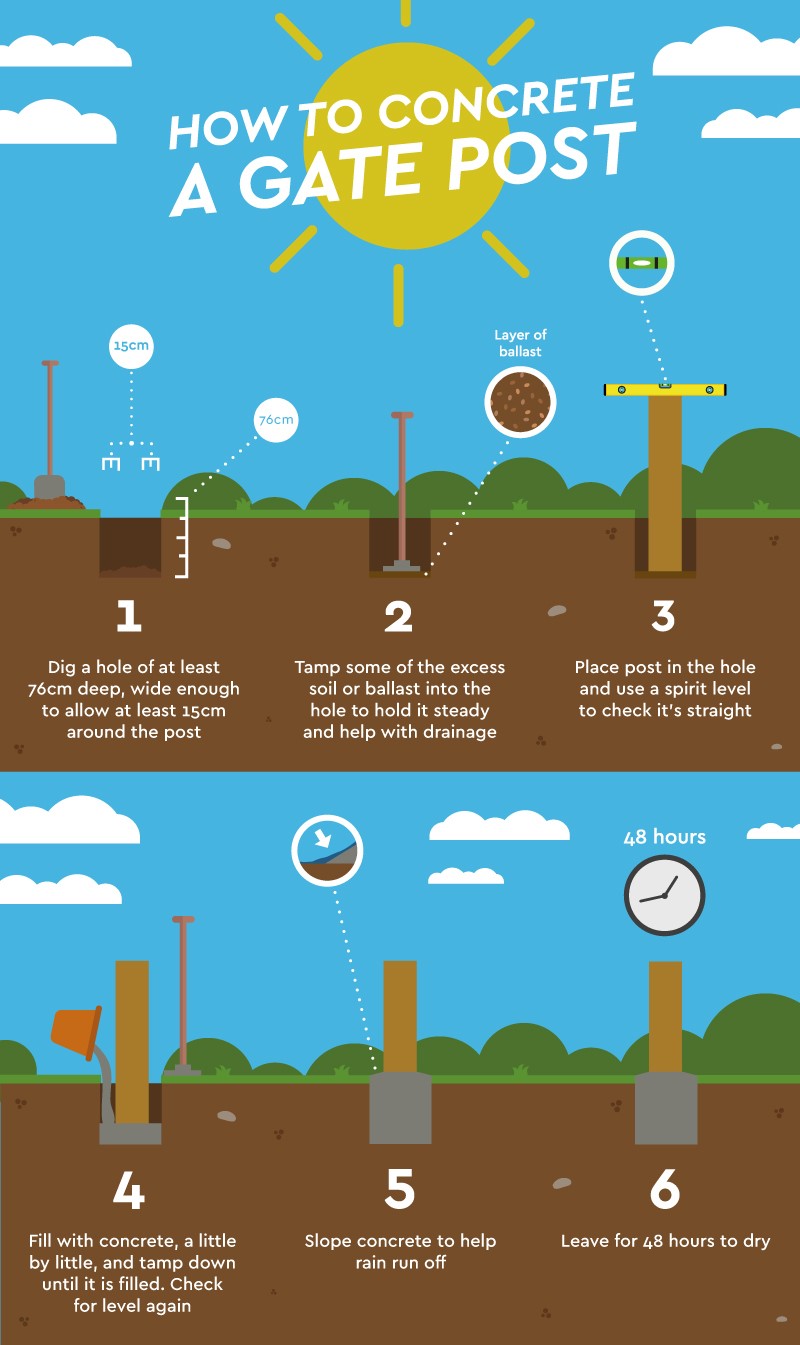 Q) How do automated gates work and can I convert my manual one?


Whether you already have gates installed or are looking to install new gates, automation kits can provide you with an easy to install solution that means you'll never have to get out of your car to open those gates again.
Automation kits typically comprise a motor, remote control, plus wall-mounted detection cells. Most automation kits operate with a mechanical arm which 'grabs' the gate, either part way up the gate or underneath. As a wooden gate is solid and generally cannot be seen through, the kits where the arm attaches part way up the gate are easier and cheaper to install. For decorative metal gates, the below ground kits are more discrete with nothing to detract from the beauty of the gate.
The opening angle and speed can be adjusted to ensure the gates only open when and how they should and a manual opening facility means that you can provide regular visitors with a key so they can let themselves in without having to disturb you.
Safe and functional, they offer a gentle swing action and there are different kits to suit various weights and heights. The convenience which comes with an automated gate is indescribable – you won't know how you managed without this feature, trust us!


Q) Are automated gates safe?


Automated gates are classed under EU legislation as 'machines' and must comply with strict health and safety guidelines. When choosing your automation kit look for a kit that offers an obstacle detection feature, to prevent accidents and which also has adjustable gate opening and closing speeds to further increase safety.
Q) How do I maintain my gates and railings?


Your gates and railings should be finished in such a way that protects them from the elements. This not only ensures that they function correctly and remain in good condition, but it means you get a good return on your investment. Here's how to maintain your gates and railings:
Metal
Some of our wrought iron products are zinc plated to prevent the formation of rust. This can protect the gate or railings for many years.
Otherwise we coat products in black primer, ready for you to paint in a top coat in the colour and finish of your choosing. To maintain your items in good condition, it's necessary to repaint them with suitably protective paint every three to five years, depending on the type of paint you use. To save yourself some time, however, we recommend Hammerite for its durability, resistance to corrosion and because it acts as a primer, undercoat and topcoat – so is easy to use. It also offers up to 8 years' protection from rust with every treatment and comes in a wide range of colours.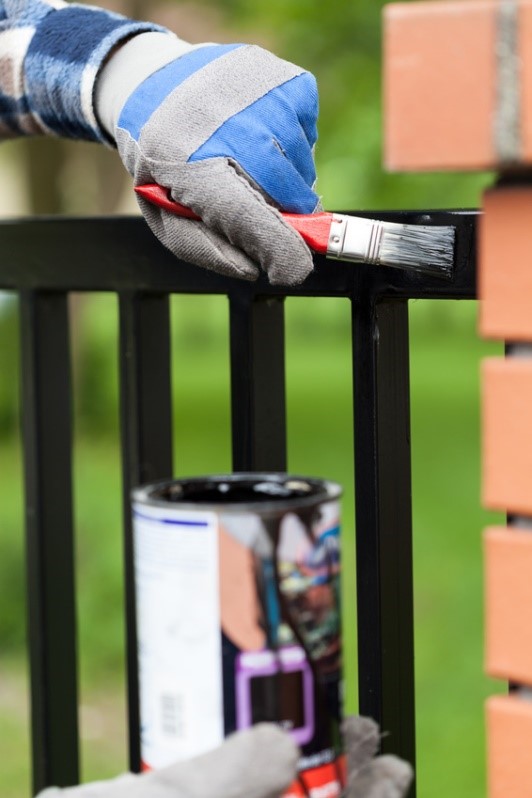 Wood
Our wooden gates are pressure treated and as a result, have a life expectancy of 15 years or more with little or no maintenance. Pressure treated timber is a pale brown colour with a slightly green tint, which left alone will weather to an attractive silver/grey or you can paint or stain them if you would like them to be a different colour. You can change the colour straight away by staining the wood using
Protek Timber Eco Shield
, or it can be painted after it has been allowed to weather for at least 3 months using a product compatible for use with pressure treated timber.
There are several options for caring for untreated wooden gates including various oils such as Linseed oil that provides protection whilst allowing the beauty of the wood grain to show through, however this requires frequent reapplication. If you opt for stains or paints, it's a good idea to choose a timber-compatible one which allows the wood to breathe and protects against heat and moisture. Some good brands include Sikkens, Sadolin, Johnstone and Ronseal, which also waterproof the wood. If you're looking for a treatment to use prior to staining, Sikagard offers several products which dry clear and offer that additional protection. Untreated wooden gates require annual maintenance, to provide protection and repel rot.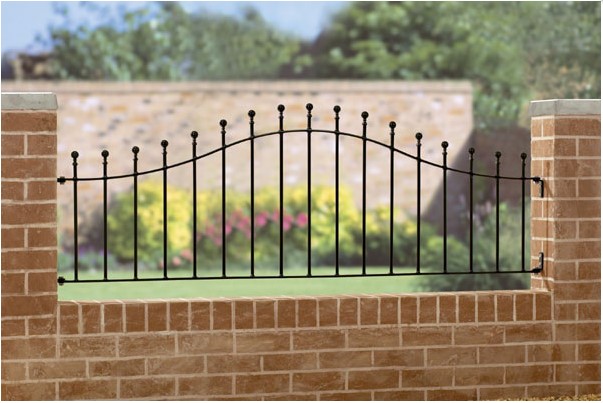 Q) Who can install my gates?


Our products are designed to be installed by you (see below for help). Hanging gates are simple to affix to walls, pillars and posts, requiring no additional structures. Many of our metal gates are light enough to be installed on a DIY basis.
Should you need some assistance, we advise you to find a reputable handyman or builder that can install the gates or erect posts as necessary. A good place to start is a review site, where you can read testimonials about quality of work and customer service. Check for the Trust Mark (the government endorsed standard) and/or affiliation with the Trading Standards Institute Consumer Codes Approval Scheme (CCAS). Sites such as:


1. How to install a gate for domestic and commercial properties

There are too great a variety of different hinges and latches for us to be able to give reliable instructions on how to install a gate in this guide, so our first recommendation is to make sure you read the instructions that are supplied with your gate and if there aren't any provided, don't be afraid to ask the retailer questions to ensure you know what you are doing.

Make sure you buy fittings that are going to be strong enough to take the weight of your gate. All of our metal gates are supplied with hinges and latches and our wooden gates have optional fittings packs that are recommended to ensure you are using something suitable.
Don't try and install a gate on your own. Holding a heavy gate in position with one hand whilst using a drill or screwdriver in the other can lead to accidents. Two people are all that is generally required but when lifting a heavy gate, the old adage 'many hands make light work' is certainly true!
Tools that you will most likely need include a tape measure, spirit level, drill, screwdriver and levelling blocks. Optional celebratory beers are best saved until after the job is completed.
2. How to install railings at your home or business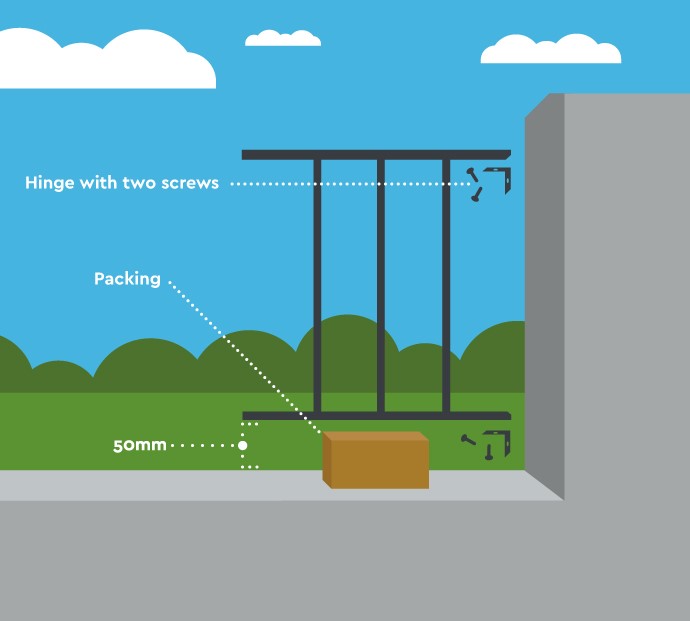 Installation of railings can also vary but many use a system whereby the railing is connected to the pillar or post by means of an 'L' shape hinge bracket, that is attached to the railing with a nut and bolt. There are other fixing methods, so refer to the instructions supplied with your railings or contact your retailer for advice, so you know what you are doing.
With the fixing method as illustrated above, concentrate on one side by marking out where the hinges should be positioned on the wall. Remember to leave the 50mm clearance at the bottom. The hinges will have two holes: one for screwing to the wall and another for attaching to the railing. You should have two hinges for each end of the railing, so four in total.
Still concentrating on that same one side, attach the hinges to the railing using the nut and bolt. Next, find your wall marks and – with help or by using sufficient packing underneath the railing to keep it level and steady – fix to the wall.
Taking the other end, use a spirit level to work out where the two remaining hinges should go. Screw the hinges to the wall and then (loosely) attach the railings. Check the level again and tighten into place.

Office for National Statistics data shows that there were 411,425 burglaries across England and Wales between April 2014 and March 2015 and while that figure has dropped significantly over the last decade, the statistics also reveal that most criminals have the audacity to access a property from the front, forcing locks or taking advantage of unlocked doors.
Unsurprisingly,
the data
also emphasises that households which employed 'at least basic' home security measures (window locks, door deadlocks, timer or sensor lights, alarms, etc.) were significantly less likely to experience even an attempted burglary.
A lockable gate and railings will add that additional layer of security to your property, and is recommended by
Neighbourhood Watch
as a further deterrent for burglary. Gates make it that bit more awkward for opportunistic criminals by blocking access, plus they can help obscure visibility of what lies within. It's possible that having a gate can reduce your insurance premiums. What's more, gates can protect children and pets, preventing them from running out on to the road.
Use padlocks on those that employ a bolt lock, rather than a key. Access gates ideally should be placed at the front of the property so any unusual activity has a good chance of being noticed, while back alleyways should be gated with tall gates which would be difficult to scale.
Due to high scrap values, metal gates are regularly stolen. To prevent your gate from being lifted off its hinges to be stolen, or to allow access to your property, we've listed some handy tips to beat the criminals.
Where hinge pins are used on which to mount the gate hinges, invert the top hinge so the pin points down to prevent the gate from being lifted from its hinges

Weld a washer or plate on top of the hinges to prevent removal

Attach the gate hinges using one way locking nuts, or painting your hinges to make them impossible to undo.

Personalise your gate by welding on a house number plaque or engrave it with your postcode, so that if it is stolen and recovered, the police will be able to trace it back to you

A combination of gates, railings and basic security measures can help keep your property, its contents and inhabitants safe.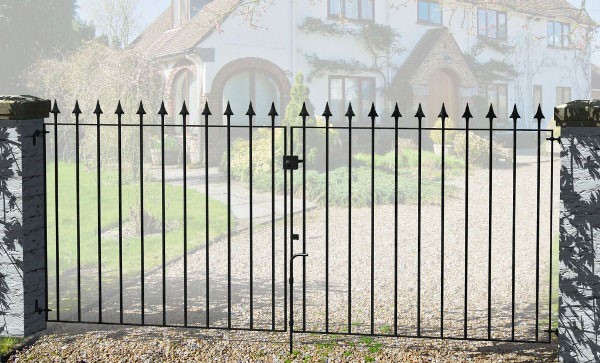 For more information about Garden Oasis's vast range of gates, railings and accessories, or to discuss your queries with one of our friendly advisors, please
get in touch
.