Made to Measure Edinburgh Railings
Brand: BIC
Product Code: BIC025M
Availability: In Stock
If you require the Edinburgh Railing in a bespoke size, a made to measure service is available for this railing and available to order online. In order to ensure you order the correct size railing, please read the information below and follow the simple instructions for an instant quote.
---
HOW TO ORDER A MADE TO MEASURE RAILING
Click on the 'Made to Measure' button with the tape measure, this will open the screen for you to enter your sizes for an instant quote.
STEP 1 – Enter the Gap Width
The gap width is the distance between your pillars or posts. If your gap is over 2000mm, the railing will be supplied in two equal sections that bolt together to form one continuous railing. The railing is supported at the join by a 50mm (2") long leg attached to a bolt down footplate. This removes the need for joining posts. Over 4000mm, the railing will be in 3 equal sections with two bolt down legs and so on.
Example: If you have a gap of 3000mm between pillars, the width you should enter is 3000mm.
STEP 2 – Enter the Railing Height
The railing height is the distance from the bottom of the frame to the highest point in the railing. Due to the pattern of scrollwork in this design, the height is fixed at 403mm. This does not include any gap between the railing and the wall, which for railings over 2000mm will be 50mm (2") to allow space for the support leg. You would therefore need a pillar height of at least 453mm to install this railing.
Once you have entered your measurements, your made to measure quotation will be displayed. This is the total price, including VAT and delivery (excluding Highlands & Islands). When you are ready, click "Add to Basket" and go through the checkout to complete your purchase.
If you are unsure and would prefer to discuss your requirements or if the size of railing you require is larger than the maximum you can order online, please contact us with your measurements and if we can make it, we will be happy to provide you with a quotation.
---
General Information

Fittings: The Edinburgh Railings are supplied with four hinge brackets.
Finish: The made to measure railings are supplied dipped in a black primer ready for you to paint with a top coat in the colour of your choice. We recommend Hammerite but any exterior metal paint can be applied. An optional zinc plated & powder coated finish is available at extra cost, please contact us for a quote before ordering.
Specification
| | |
| --- | --- |
| Frame | 25mm x 10mm |
| Infill Bars | 10mm Diameter Solid Rods |
| Hinges | Supplied |
| Width Adjustment | +5mm / -5mm |
| Finish | Black Primed |
4 to 6 weeks
Delivery charges apply to Highlands & Islands.

FREE


Surcharge applies for Highlands and Islands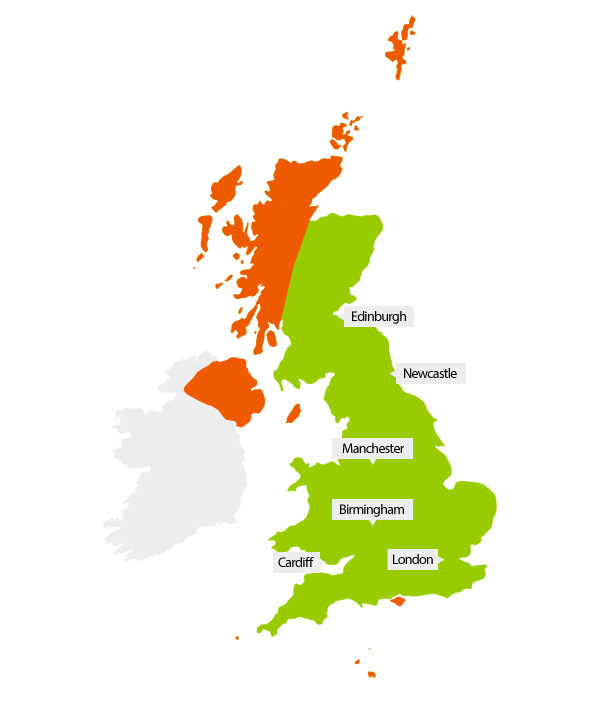 The product is currently Out-of-Stock. Enter your email address below and we will notify you as soon as the product is available.
---
---