Regardless of the time of the year barbecuing provides a great excuse to bring the indoors outside and start grilling.
In this complete guide to BBQs we share with you some of the most loved recipes for outdoor eating and take your existing culinary comfort zones to new exciting levels.
If entertaining guests is your enthusiasm, we have the liquid refreshment secrets for alcoholic and soft drink cocktails to keep all your friends talking for months to come.
Our quick BBQ tips will help you to enjoy barbecuing all year round and make the most from your grill of choice.
For BBQ newbies we have how to BBQ videos, BBQ safety advice and your complete walkthrough for delivering BBQ success.
Read more, get outside and enjoy barbecuing safely today!

Barbecuing doesn't have to be the same old burgers, sausage, chicken combo. We have picked out some fun and interesting BBQ recipes that will make your party the talk of the town. We have included spins on some classics, vegetarian options and even desserts for you to try out on the grill!
With easy step by step instructions, cooking instructions and ingredient lists, you will find it a breeze to create these delicious treats for you and your guests. Take a look below at our Pinterest board full of BBQ recipe ideas.

No barbecue is complete without a great array of drinks to wash your food down with. We have collated a range of recipes for you to create mouth-watering cocktails and refreshing non-alcoholic beverages that will suit anyone's taste-buds. Our exotic flavours will bring the feel of summer into your home with tropical tastes from around the world.
These helpful tips will show you how to make your themed drinks in a matter of minutes as well as giving some hints on how to make your presentation top notch! See the delicious and colourful drinks we've collated on our Pinterest board.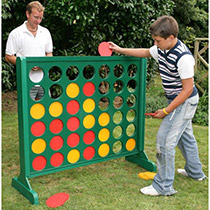 Don't forget the
garden games
to keep everyone busy.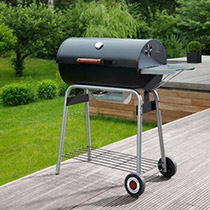 Do you prefer a
charcoal BBQ
grill?
Or do you prefer
gas BBQs
?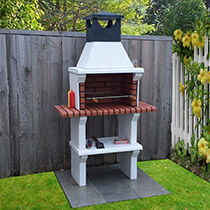 Or perhaps a
masonry barbecue
is more your thing.
BBQ care
Whether you have a gas, charcoal or masonry BBQ, looking after it is essential in order to get the most out of it.
Cleaning a Charcoal BBQ
If you have a charcoal barbeque, it's best to empty out old ashes before lighting a new one to get the best result - but always wait until ashes are completely cold, and never empty still warm ashes into a plastic rubbish bin. Simple BBQ recommends cleaning the grate whilst it's hot and has a handy step by step video.
Gas BBQ up-keep
If you have a gas BBQ there will be much less cleaning to do - the main area to worry about it the grill. Scrub this as soon as you can after, before the food and dirt sticks and your BBQ will be ready to go next time the sun shines. Gas experts Calor has plenty of tips for keeping your grills in tip top condition.
Real Simple offers plenty of tips for BBQ maintenance, including a handy gas brill maintenance checklist.
Storing gas bottles
If you have a gas BBQ then it's important to store your gas bottles correctly when not in use. Lancashire Fire and Rescue offers a whole host of BBQ related tips for staying safe and stress that cylinders should ideally be kept outside and away from direct sunlight and frost. BOC gives more tips on safe ways to keep gas canisters if you are worried.
Lighting and cooking
Lighting your BBQ safely is important - but knowing when it's ready to cook on is also useful!
If you have a gas BBQ then take care when turning the BBQ on and off, and always turn the gas off before the BBQ controls.
If you have a hood then closing it will allow your BBQ to heat up quicker; you'll need it to reach 200-250 degrees centigrade before you can start cooking on it. Which.co.uk has some great tips for cooking on gas grills; it suggests turning the heat down once it's reached optimum temperature and says the best place to cook your food is at the centre of the grill.
When it comes to charcoal BBQs, making the most of vents is the key to cooking says Which.co.uk. Don't be tempted to cook over actual flames as this will burn the food and likely not cook it all the way through. Instead wait for the flames to die down a little and choose a spot shielded from the wind to help you control the heat - and stop your guests being overpowered by smoke.
Top chef Marco Pierre White has some simple tips for knowing when you're ready to cook. He suggests the best rule of thumb is to hold your hand about 12cm over the heat and count how many seconds you can comfortably leave it there; he says with time you'll get to know your BBQ and where the hot spots are.
Jamie Oliver's guide to BBQ cooking is ideal for learning how to set up a charcoal BBQ and the cheeky chap also shows you the best way to cook your food on the grill.

We've collated a great range of videos covering everything you need for the ultimate al fresco dining experience with your BBQ. Whether you want tips for starting your gas BBQ to great recipes, you can watch the experts as they show you how it's done.
This great video from Tesco explains the best way to start a charcoal BBQ, with easy techniques for getting just the right cooking environment.
For vegetarian options, BBQ food can extend to much more than just veggie kebabs . This video from Whole Foods Market has some excellent tips for grilling all kinds of veggies.
Fitting a gas bottle to your gas BBQ and lighting it for the first time can seem a bit daunting, George from Calor Gas shows just how it's done. .
How to make the best BBQ sauce with Jamie Oliver; sticky sweet and full of flavour, this sauce is great for all kinds of BBQ foods. .
How to perfect BBQ corn on the cob; Matt from the Underground Cookery School shows the way to achieve the ultimate grilled sweetcorn. .
Want to have a go at smoking? Landmann's Kentucky Smoker BBQ is ideal for creating the tastiest of dishes. This video from Landmann shows off the smoker's features, what else you'll need and what results you can expect. .
Thinking of adding some Mediterranean style to your patio with a masonry BBQ? This video from MCZ Group shows the steps required to easily assemble your new grill. .
Beer can chicken is all the rage – add a sweet and smokey taste to your BBQ chicken with the tips on this video from DJ BBQ.

Use the right
cooking utensils
to protect from heat.
Or go for the
BBQ golf bag
novelty option.
Also use a
BBQ cover
to protect from the elements.
Barbecues are not without their dangers. Over a 12 month period, according to the Royal Society for the Prevention of Accidents (RoSPA), around 1,800 individuals visited A&E departments following a BBQ, with the most common incidents involving burns and scalds.
In order to prevent your BBQ from becoming another safety statistic, follow these BBQ safety tips from the professionals.
RoSPA – Barbecue safety
With a wealth of useful information on its website, RoSPA has created a guide showing how to avoid a range of common BBQ accidents. In this feature, the organisation covers how to prevent incidents at home or in public places and provides lots of great tips. For example:
Locate your BBQ away from trees and other flammable objects
Ensure BBQ coals have cooled down before disposing of them
Never use petrol or other accelerants to light a BBQ
NHS – Barbecue food safety
Every year, the NHS helps thousands of people recover after they sustained harm in accidents. In its BBQ safety guide, the NHS covers how to prevent friends and family members from contracting BBQ-related food poisoning, including such points as:
Make sure BBQ coals are glowing red before cooking on them
Ensure meat is piping hot before consuming
Use separate utensils for handling cooked and uncooked meat
St Andrew's First Aid – Top tips for BBQ safety
Stewart Simpson, Training Manager at St Andrew's First Aid Training and Supplies Ltd, says, "Make sure you keep a BBQ 'no go zone' for children and objects such as parasols. Children could really injure themselves by playing near a BBQ and it's all too easy for a parasol to catch fire and cause catastrophic damage to your home."
Safe Kids – Child safety around barbecues
When setting up a BBQ, special care must be taken to ensure children are not at risk. Kids are always curious about these events and their natural inquisitiveness can lead to harm, if adequate precautions are not taken.
Therefore, to ensure that your loved ones are kept safe, these precautions should include never leaving the BBQ unattended and making sure that children are always supervised around the flames.
How Stuff Works – Worst barbecue blunders
An experienced firefighter recounts some of the worst BBQ-related incidents he's attended, highlighting several experiences and detailing what we can learn from them. Perhaps the best bit of advice is allocating a 'designated cooker'.
"They had gone inside and passed out. The wind kicked up, blew some leaves on the grill, and before they knew it, the whole backyard ... and their neighbor's fence was on fire."
Gas Safe Register – BBQ safety
When thinking of BBQ accidents, many of us will imagine accidents caused by fire, burns, or scalds. However, very few people think about carbon monoxide – a silent, tasteless killer which has the potential to cause serious harm.
In this guide from the Gas Safe Register, the organisation lists a variety of useful tips, such as:
Never take a BBQ into an enclosed space
Always ensure there are ample amounts of fresh air in the vicinity
Always follow the operators guidelines when using a BBQ
Your Cat – BBQ safety tips for pets
BBQs are fun activities but unfortunately can be hazardous to our four-legged friends. With reports of animals suffering in BBQ-related accidents every year, this guide aims to keep them safe and sound.
For example, as well as refraining from giving pets BBQ scraps, owners should:
Keep alcoholic products away from animals – as they can often be toxic to pets
Dispose of waste products, such as BBQ skewers, in a suitable container
Ensure animals have access to lots of shade and fresh water
Further reading
For further information about BBQ safety, consult the following features:

So you've got the tools and the grill, you've sorted the food, and the drinks are in hand – now all you need to do is get your garden party-ready.
Firstly, you'll need to decide which areas of your garden will be used for what. Choose the position of your BBQ carefully; picking somewhere away from guests and with stable ground, such as a patio is wise.
Make sure your guests have ample seating and if you have a lawn, then throws and cushions can provide a great seating area if you run out of chairs.
Party themes
Picking a theme can add a fun twist to your BBQ event. Punchbowl offers some excellent suggestions for themes, such as Hawaiian or nautical – and also explains how to easily carry this through with invitations and decor.
All You has some great tips for creating a shabby chic country feel to your garden party, and suggests using a drink dispenser to make self-serving easy for kids. Fresh flowers – perhaps cut from your very own garden or allotment make wonderful table decorations and create a vintage or natural feel – perfect for the setting.
Decoration and table utensils
Create the party atmosphere with some colourful decorations; bunting is perfect for the garden – and pvc or all-weather bunting can be happily put up in advance of the event without worry.
Al fresco dining is all about fun crockery and cutlery. Using plastic plates and cups will prevent any breakages – and these can easily be spiced up with fun straws and table decorations. Martha Stewart has some great ideas for homemade party decorations including these summery Floral Straws.
For other interesting table ideas, HomeDIT has some excellent suggestions such as using jam jars for glasses, cute ways to display the cutlery – complete with napkins - and neat ice bucket ideas in the form of using your wheelbarrow!
Entertainment
If you have children attending your BBQ then lawn games are ideal for keeping them entertained – and let's face it they work for the adults too! Fun ideas can include giant versions of popular table to games such as chess or noughts and crosses.
Don't forget the perfect way to set the scene is with your garden itself! Ensure pathways are clear and give the patio a quick sweep before your guests arrive. Weed beds and pop in some colourful bedding plants for a beautiful backdrop.